Wedding highlights film – March 23, 2018
The lovely Kelly and Paul got married at the Alona Hotel in Motherwell and Maq Films was there to record their special day. Check out their highlights film at the bottom of the page…
My day started with filming some bridal preparations with Kelly and all her bridesmaids, as well as her mum and dad and brother. The house was busy and bustling -as always on the morning of a wedding! – and everyone was nervously excited for the day ahead.
Once we had all the shots we needed, it was time to drive over the the venue. This allowed myself and the photographer some time to set up for the ceremony. We also managed to film of the guests arriving and the groom, Paul, looking nervous before the bride arrived!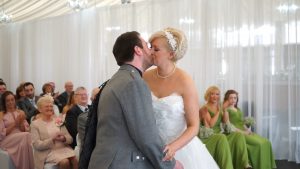 The ceremony was beautiful, with plenty of tradition like the hand fasting and a candle lighting to signify the joining of two families. The couple said their vows and had their first kiss as newlyweds as the whole room applauded and cheered. It was clear that everyone was delighted for them.
It was quite a windy day and the weather was acting a bit unpredictable in typical Scottish fashion, so we didn't spend too long outside taking photos. Instead the couple were able to enjoy their afternoon chatting with their guests and celebrating.
Although, we were rewarded with the most beautiful sunset after the speeches and dinner had taken place. Thankfully we had time to go outside to nearby Strathclyde Park to capture some of it with Kelly and Paul.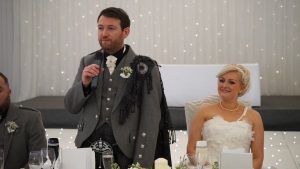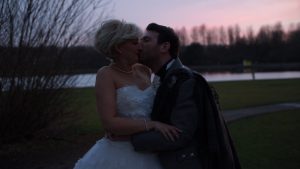 Shortly after, it was time for the first dance and for everyone to relax and enjoy the rest of their night.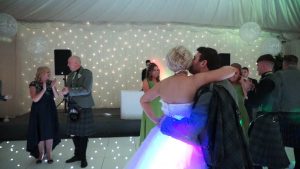 Venue: Alona Hotel
Photography: Crawford O'Hare
Check out the video highlights below: