The new Mr and Mrs Smith tied the knot at the beautiful Balbirnie House on the 11th April, 2018. Watch their wedding film here.
In the morning, before the guests arrived, there was a lovely atmosphere in the bridal suite as all the bridesmaids, flower girls and the bride were getting ready. The room looked absolutely amazing which made it easy to get some great shots of the preparations. I understand it was the bride squad who decided to decorate it – so thanks for that girls!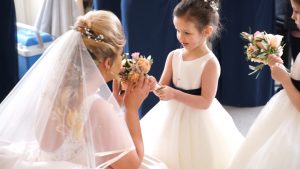 As the guests started to arrive and the groom and his best men assembled in their positions in The Orangery, the excitement started to build. The String Quartet kept everyone entertained while Catriona finished getting ready and into her gorgeous pink dress.
Fraser was overcome with emotion as his bride walked down the aisle towards him, escorted by her dad – who had also shed a tear at the sight of his daughter just a few moments earlier.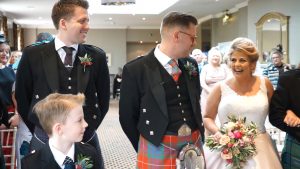 The ceremony was full of love, hilarity and warmth thanks to a selection of poems and readings performed by the couples families. They exchanged vows and wedding rings and had their first kiss as husband and wife to a room full of cheers and applause.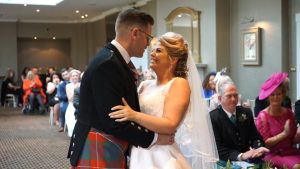 After walking down the aisle as newlyweds, they were showered with confetti in a picture perfect moment on the steps of the very grand Balbirnie House.
Throughout the afternoon the photographer took a variety of group shots with the wedding party and their various friend groups before whisking the two of them off for a little walk around the grounds of the venue for some romantic couples shots.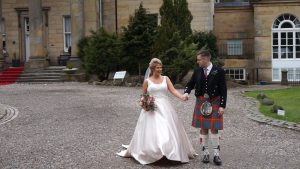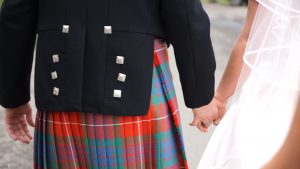 The day went by in a flash, and before we knew it, it was time for the speeches and for all the guests to sit down for dinner. All of the speeches were heartfelt and it was clear to see that the couple appreciated all the effort that the speakers had gone to.
It wasn't long before the evening guests arrived and the dancing began. There are some particularly great dance moves captured in the highlight film – please check them out and let us know what you thought in the comments section.
Dresses – Sarah Louise bridal
Hair – Pamela from Hairwayz
Make up – Nicola from salon above
Cake – Specialty Cakes
Band – Sneaky Treacle
String quartet – Cairn String Quartet
Flowers: Oor Fleurs
Kilts – McGregor Macduff