Friday 9th February – 2018

Amy and Andrew's wedding day took place at the gorgeous Bothwell Bridge Hotel. It was a crisp and bright winter day and everyone was pleased the sun came out!
Bridal Preparations
My day started off at the mother of the bride's house where all the girls were getting ready. There was a lovely feeling of anticipation at the house, but no one came across as stressed or nervous – which is fairly unusual I have to admit!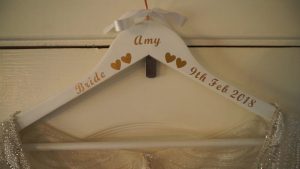 Once everyone was almost ready, it was time for me and their photographer Mark from Crawford O'Hare to head over to the venue. This allowed us to get set up and take some prep shots with the guys who were already there.
Ceremony
The ceremony was conducted by Gillian Jackson, an assistant registrar at South Lanarkshire Council. Although it was short and sweet, there was no shortage of emotion. The couple exchanged vows and had their first kiss as husband and wife to rapturous applause!
Once the couple had a chance to toast their marriage with a glass of bubbly, it was time to for all the wedding party to travel to Viewpark Gardens for the photo call. We were rewarded with some lovely group photos and romantic couple shots in the beautiful surroundings inside the gardens.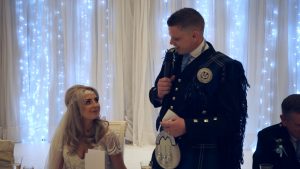 Reception
Before everyone could tuck into their dinner, it was time for the speeches! All of the speakers did an excellent job. You can hear some of the groom's speech in the highlights clip below.
It was also a special day for the flower girl, Laci, who turned four on the same day and celebrated with a birthday cake just before the couple took to the floor for their first dance as Mr and Mrs Walker.
Check out the highlights film below:
Amy said: "We loved the video – everyone had tears and said you captured it well. It's brilliant, you done a great job. I can't thank you enough."