The new Mr and Mrs Hall said their vows with a backdrop of one of the most  beautiful locations in Scotland – the bonnie banks of Loch Lomond.
I've worked at Duck Bay Marina a few times now and it truly never disappoints. Each time I've visited the venue, the weather has been different and I've seen everything from snow showers to blazing sunshine. But it always has one thing in common – a gorgeous view of the Loch.
I started the day off filming Laura's bridal party at the house and capture footage of all the girls as they got their hair and make-up done in preparation for the day ahead. It's always lovely to feel the excitement build throughout the morning and before we knew it, it was time for myself and the photographer, Mark, to head on our journey to Loch Lomond.
When we arrived, the groom – Scott –  was there to welcome all their guests and it was clear to see how nervous and excited he was.
Once Laura arrived in her limo with the bridal party in tow, it was time for the formalities to commence.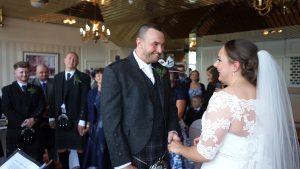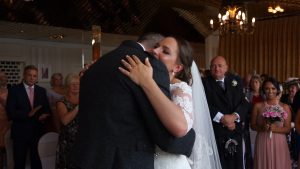 The couple were married by registrar, Elaine Crichton – check out the highlights film below to hear a clip of their vows.
After the vows were exchanged and the newlyweds walked up the aisle as Mr and Mrs Hall, it was time for Mark and I to capture the family portraits. Thankfully, it was a beautiful day and we were able to take everyone outside to the beach. We even managed to take the couple out onto the jetty for some lovely romantic shots.
The rest of the day went by in a flash – they always do – with the speeches and a delicious meal from the team at Duck Bay to conclude the afternoon.
Laura and Scott chose Ed Sheeran – Perfect as their first dance song. It was just lovely to see their friends and family look on as they took their first steps into married life together.
Thank you Mr and Mrs Hall for choosing Maq Films to be a part of your day!
x